Preston Innovations Original Slip Elastic 
The Preston Innovations Original Slip elastic has been in my pole tips for as long as I can remember - so that's quite some time now :-)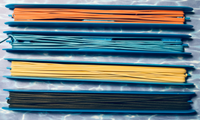 I only use the sizes No. 4 through to the No. 8 in the Slip elastics - these cover 90% of my pole fishing.
I use the elastic through the № 1 tip section of my 13 m Preston Innovations Competition 3000 EURO II pole – which is a very long section at 1.55m. I have 4 tip sections fitted with the following elastics: 1 x № 4, 1 x № 5, 1 x № 6, 1 x № 8 and I have Dura Slip in the remaining 6 tips (see below). When fitted this equates to about 1.4 m of elastic, and this gives me the softness and power combination that I prefer for my fishing.

The Orange № 4 is great for smaller fish and light rigs with fine 0.07 mm Akku Power hook-lengths. The № 5 is perfect for Roach on the Caster or Hemp, and I usually use a 0.08/0.09 mm Akku Power hook-length with this elastic.
Yellow № 6 is a bit more powerful and can cope with bigger fish like Perch and Skimmers up to about 1 kg. I use 0.09/0.10 mm Akku Power hook-lengths with this elastic.
When I'm after bigger fish like Tench and bigger Bream, or when fishing floats over 2 grams on the deeper canals and rivers, I up the game to the black № 8 elastic, and fish with heavier Akku Power or Reflo Power hook-lengths - 0.11 mm to 0.15 mm.
As you can see, it is important to balance the hook-length with the elastic size you are using. When the fish turns its head, the elastic gives and the hook-length should be able to cope. If the elastic is too strong you could break off when the fish quickly turns away.
 Preston Innovations Dura Slip Elastic - from April 2021 
This is a new elastic from Preston Innovations and it has been receiving some excellent reviews.
I have fitted 4 tips (Monoblock's) with this elastic - 2 x No. 5 and 2 x No. 7.  So far the elastic has performed well when fitted through the tip section of my pole but it does power up very quickly. It is probably more suited to being in longer sections or a top 2. The No. 5 is proving to be a great all-round elastic!
Even with the Dura Slip elastic I prefer to use a normal connector rather than a Dacron connector.

I also now have a Carp 1000 11.5 m pole and have fitted the 3 Monoblock's with Dura Slip 9, 11 & 13. Looking forward to testing the pole and single-section elastic out on a commercial fishery.