Fishing 2023 
I am hoping that 2023 will be a good year for my fishing.
The Old Lags trip is in April, and we'll be on some new venues for us. The Stippevent will be on the 22 October on the Twente Canal in Eefde - limited to 75 pole anglers.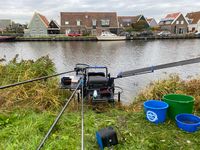 The North Holland Canal near Wast Grafdijk. I had to cut out the peg before I could set up my gear on this match. Sadly, I fished the pole when I should have fished the feeder - far to many snags, and too much weed, for the pole.